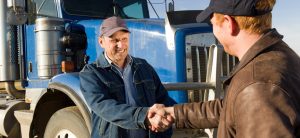 As a former driver, I have dealt with great brokers and not-so-great brokers in the industry first hand. I can remember being incredibly happy when my dispatcher would tell me to call one of the good brokers to get the details of my next load, just as much as I can remember the dread I would feel when he would tell me to call one of the brokers that I had issues with in the past, knowing that there was a good possibility that there would be bad addresses, no appointment set, and no chance that the broker would answer the phone after hours. This list could go on for pages.
When I made the decision to leave the open road and sit behind a desk, it was because I found a company that believed in doing right by their drivers and carriers. They understood the big picture that a brokerage can have hundreds of customers and thousands of loads but none of that means a thing if you don't have carriers to move your loads. As big as this industry is, it is really a pretty small world. If you are known as a "shady" or bad broker, word gets around and carriers will quickly quit working with you. We all have our part in getting a shipment from pick up to destination and the more we work together, communicate, and respect each other's part in the puzzle, the smoother it goes and the happier everyone is in the end.
The broker-carrier relationship is much more important than most understand. I never understood it until I moved to this side. Brokers provide a sales arm that is free to the carrier because we are always looking for new business and if we know we have carriers empty in a certain area often, we can focus our prospecting on that area knowing that we legitimately have trucks available to handle needs. We can act as representatives to keep our carriers' trucks loaded and rolling which eliminates them having to utilize load boards. This allows us to know the carriers and drivers we are working with which builds trust on both sides.
For carriers, working closely with a few brokers allows them to keep their drivers moving and making money. It provides predictability for both the carrier and the driver by not having to constantly hunt for the next load. A lot of our dedicated carriers call us and let us know the names of places they pick up so we can call on them and try to close that business as well. This eliminates the carrier from needling a sales team and it also eases the the administrative workload, because the more loads we can put on their trucks, the less work it puts on their invoicing department since most of the invoices go to one or two brokers instead of sending invoices to dozens of brokers throughout the year.
This is an industry that requires cooperation and communication between brokers and carriers. Brokers need to remember that without carriers they literally cannot move freight for customers. Carriers need to remember that brokers provide a lot more opportunities to move loads throughout the country that would be difficult to find without a large sales force. Carriers, if you find a good broker, help educate them about your side of the industry to let them know we are actually here with their best interests at heart, trying to keep their trucks moving. Ask questions about things you don't understand so you can be more educated in your decisions and you can educate your customers. If things go wrong on a load-even if it isn't your fault-do all you can to compensate the carrier fairly. It may not be exactly what they ask for, but it is a show of good faith that you are honest and caring.
Too many people in this industry work in their own little segment of it and never truly learn what all the pieces are and what they do in the puzzle that supplies us all and moves our economy. If we pass on our knowledge to others, they will continue to do the same.
Robert is a former driver with over two million lifetime miles. He now serves as the Chief Problem Solver® at Legion, heading up our operations team. You can reach him at rpugh@jointhelegion.com.
Check out the online HTML CheatSheet here and save this link because you might need it while composing content for a web page.
Go Back