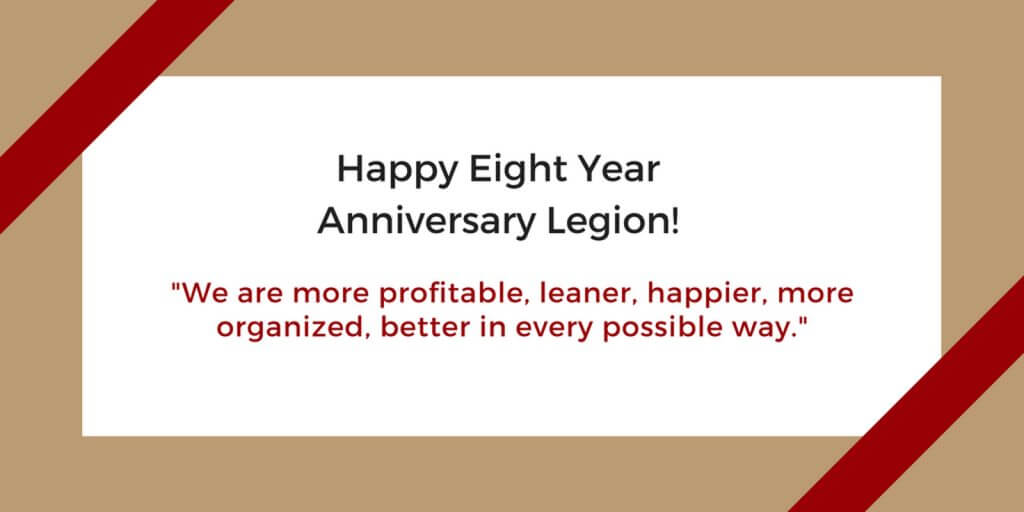 Eight years ago today, Legion Logistics was born. The date is stamped on our formation paperwork with the Commonwealth of Kentucky – like a midwife signing a birth certificate, Secretary of State Allison Lundergan Grimes declared us an official company on September 26, 2009. At that moment, Legion was really just a concept, not a working company. But with that piece of paper, I was able to apply for and receive all our other official documentation, open a checking account, and eventually, start brokering freight. It is the one document that started it all.
Every year, we celebrate Legion's anniversary (birthday? I never know what to call it). Sometimes, we have a big blowout, like we did at five years. (That's a Legion party that no one remembers but can also never forget. It lives in Legion Lore forever.) Other years, we're a bit lower-key about the celebration. This year is one of those years. We're having lunch in the office and I'm sure there will be speeches, because that's what we do, and I'm sure I'll cry, because that's what I do, but there (probably) won't be any shots.
But no matter what tone the celebration takes, it is that – a celebration. Eight years ago, Tony and I decided we had what it takes to run a business, and for eight long, amazing, challenging, exhilarating years, we've worked to prove it. Every one of these eight years has brought stresses and joys, defeats and victories. And every year has been worth celebrating, even the really difficult ones. Because we've made it this far, and we continue to make it.
Everyone knows the statistics about businesses surviving past five years – they say once you cross that threshold, you've REALLY made it. What they don't tell you is that you have to KEEP crossing that threshold, again and again and again. There's no downhill section to the marathon course a company follows. There's no room to coast. Instead, there are just new and different challenges – lessons to learn, skills to develop, obstacles to overcome.
2017 has been a remarkable year for Legion. It will go in the books as our best year yet, without question. We are more profitable, leaner, happier, more organized, better in every possible way. We've learned from every obstacle that has tripped us along the course. After eight years, we've reached a point where we are doing a lot of things right, and the results are starting to show.
However, we aren't done. This is no time to be complacent. Tony and I, along with the rest of the management team and all our hardworking employees, have big plans for Legion. We are looking at year nine and beyond with incredible optimism, boundless enthusiasm and a resolute determination to continue making Legion the best possible company it can be.
Because eight years ago, we formed Legion because we truly believed we could do it better. And none of us will be satisfied until we've proven that we can.
Go Back