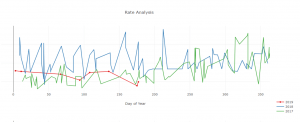 I think it's safe to say that 2019 has been one of the most volatile years we've seen in the freight market. Getting a hand on current and future rates has, at points, seemed a little like fortune telling. But based on our LegionAnalytics historical analysis, and feedback from our customers and partner carriers, the rest of 2019 will continue to look and feel like 2017 as far as rates go.
I anticipate that we will see the usual uptick towards the holiday season, a leveling out at the end of the year and possibly some continued demand into the first or second week of 2020, due to typical eCommerce cycles.
Produce seasonality has not significantly impacted rates and capacity this year as it has in previous years. However, holiday season coupled with pumpkin and Christmas tree shipping seasons may provide some turbulence in specific markets.
The only wild card I see on the horizon is tariffs with China. Any tariff easing will take 30-60 days to affect the OTR market, considering the placement orders and ocean travel time. Major container import markets will be hit the hardest. Having said that, importers might be forced to use air freight the closer we get to holiday season in order to meet consumer demand, which is expensive proposition especially if the used to shipping their goods via ocean container.
Regretfully, I believe we may see more small and medium size asset-based trucking companies go out of business this year. The increase capacity coming online from last year's record-setting Class 8 orders has made it hard for most of our core group of carriers to move freight profitably. The asset-based carriers do make it through to the other end will be leaner and stronger, but there will be some that can't maintain operations in the face of lower profits.
In the face of such a flooded market, capacity-wise, my strongest recommendation to our partner carriers is to start seeking long-term, dedicated relationships with customers and brokers. While the spot market is a great place to be when the market is hot, the long-term benefit of steady contracts is more beneficial to you and your employees in markets like this. Look for brokers, who, like Legion, have created carrier partnership programs to help find loads where you have capacity.
Lastly, let's not forget trucking is cyclical, so sooner or later we will climb out of this slowdown and be operating in a better market. Our analysis tells us that should happen around mid-2020, which is approaching quickly.
Tony Coutsoftides, Legion's Freight Guru and CEO, is a twenty-five year veteran of the logistics industry, starting with his timer working in logistics in the US Army (so he's an actual veteran, too) and extending through running a cargo airline in Europe and now fifteen years in freight brokerage in the United States. You can reach him at tonyc@jointhelegion.com
Go Back