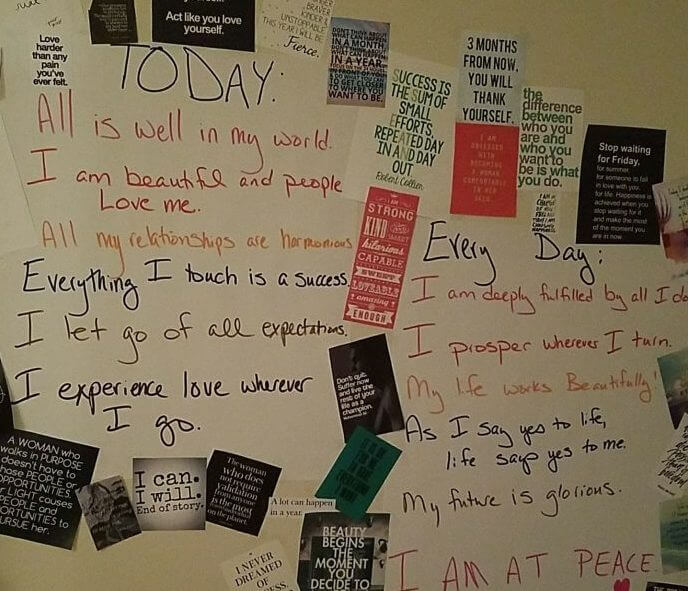 One of the best things about living alone is that I can put whatever I want up on my walls. I don't have anyone else to consult if I want to hang a piece of "girly" art, or if I choose not to have a TV in my bedroom. I do what I want with my space. Because, after all, it is my space.
Apparently, what I want (if my walls are any indication) is to use rolls and rolls of scotch tape to put motivational messages up in my bedroom and bathroom. Giant post-it notes covered with hand-written affirmations; pages from positive-message adult coloring books; page-a-day calendars, this is my homemade wallpaper. Basically, if it says something positive or meaningful, I'm going to tape it to my walls. The woman who used to clean my house once referred to me as her "invisible motivational speaker."
My office is the same way. When we took over extra space in our building, we took it as-is, where-is. It wasn't painted in Legion colors, but a sad, bland beige. So, I took it upon myself to make up a dozen motivational posters and hang them on the walls in the room where we have our staff meetings, then scattered some more throughout the rest of the office.
To my mind, it's just like the role nutrition plays when you are working out regularly. Without the right food, your body won't perform up to potential. If I eat two Twinkies and then try to hit the gym with my trainer, I'm going to bonk in five minutes. But if I eat nutritious, healthy food, I'll be able to push myself harder and bounce back from a hard lift or a set that doesn't go the way I want it to. I refer to both of these situations – eating healthy food and consuming positive messages – as "feeding the machine."
Now, every space I'm in on a regular basis has positive messaging hanging in the background. And that's important. I believe firmly that what we put into our brains affects what our brains put out, so I'm going to make sure my inputs are as positive as possible, at every turn. The music I listen to, the books I read, the posters on my walls, are all positive, affirmative, and motivational. I can't control what happens in my day – what fires spring up here at work to put out, what my daughter says to me when I tell her dinner isn't something she loves, what the scale says in the morning – but I can absolutely build a foundation of resilience and positivity to stand on and face those challenges.
And in the spirit of sharing, I'm going to give you my favorite resources to find your own positive, motivational and affirmational brain food:
Use the online HTML beautifier to maximize your web content composing efficiency.
Go Back